Fu'ad Idowu Oduniyi, an Industrial Relations and Personnel Management graduate of the Lagos State University, Ojo, has quit his banking job for shoe making. Fatimah Abdul reports.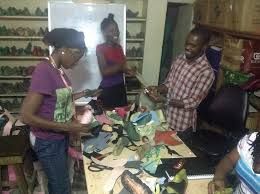 Why will an Industrial Relations and Personnel Management graduate of Lagos State University (LASU) quit a juicy banking job for a career in shoemaking?
This was the question on the lips of many colleagues and family members of Fuwad Idowu Oduniyi.
To him, the passion for leather works, which include making of shoes, bags, slippers and belts has been long in him before he gained admission into the university.
As the Chief Executive Officer (CEO) of Noble Fu'ad Leather Works, the 28-year-old 2012 LASU graduate said he decided to learn how to make slippers during a long in him strike in his second year at the university.
His interest, he said, grew when his colleagues, impressed by his shoes, started patronising him.
After graduation, he underwent more training in shoemaking before leaving for the National Youth Service Corps (NYSC) programme in 2013.
His three-week stint at the NYSC Camp in Benue State was fulfilling in skill acquisition and entrepreneurial development training organised for Corp members.
He taught his camp mates shoe and bag making. Because of his expertise, he was chosen to deputise for the female leather work instructor in camp. His dexterity in the business earned him more patronage before the end of orientation.
At the end of the NYSC year, Oduniyi was not in a hurry to go on a job hunt. Having observed the high unemployment rate in the country, he decided to hold on to his shoe business. He enrolled as an apprentice to a specialist cobbler in Surulere. Soon, however, he got a job in a bank. To him, securing the job was not what he prayed for neither did he crave to have it, it was just a miracle.
He said: ''It all started with Diamond Bank. At that time, the bank was re-launching some of its applications and we were hired just for three months. When the programme ended, I submitted my Curriculum Vitae (CV) online just for submitting sake, but I continued with my shoe business, learning more because I wanted to grow big in the business.
"Another opportunity came for me through an uncle. It was a marketing job offered by a Lagos Island branch of Skye Bank. We were given the task of getting customers. While I was with the bank, I tried to satisfy my customers who wanted to make shoes but it later became too stressful to combine both. I realised that I was disappointing my customers when I did not deliver their shoes as agreed. I was not comfortable with this and asked myself what I really had zeal for.
"The answer was not far-fetched. It was my leather work business. I believed I would become my own boss if I continued in shoemaking. Fifteen months later, I left the bank for my leather work business to give it full concentration.''
Oduniyi told The Nation that quitting his bank job was a satisfactory option both in terms of personal fulfilment and the income.
His earnings in the business, he said, were sufficient compared "to the long wait for a monthly salary".
He explained that being in control of his time "is the greatest pleasure I have derived from my business" compared to the pressure mounted on him when he was in the banking industry.
He said: "I believe education cannot provide a substantial earning for you, it is just a complement to whatever thing you choose to do by yourself. You are educated because you are different from an unlettered person. You are meant to infuse the difference in what you do to make it distinct. To a great extent, my exposure as an educated individual has contributed to my business. I have my own brand name and I advertise my products online even through my blog. I also had the opportunity to be interviewed by a blogger, Black Box Nigeria, who also created publicity for me. I work here in Surulere where my products are displayed in a show room. I equally have my show room at Isheri Olofin. Through friends and families, I have also made many customers."
Despite many challenges in the industry, he told The Nation how he has been coping.
His words: ''As regards that, the little challenge is the turn out of our customers and the need for me to still have some tools that can add to the beauty of the works I have done. Most of our works are done manually. We do virtually everything with hands from drawing, measuring and designing, we only use machines to file and sew. I make use of my master's machines for finishing.
"Also, not having apprentice whose presence obviously makes work faster is also a challenge. A situation whereby you will have customers to deliver shoes to and you are the only one doing the whole process. Aside all these, I am still satisfied with what I make.''
He urged undergraduates and graduates to sharpen their entrepreneurial skills so as not to be dependent on people or company.
Oduniyi said: ''Having one skill or the other is an added advantage. For the graduates, I remember I inspired two of my friends who graduated and had nothing to do after trying to get a job. I made them to understand if the opportunity of certificate job comes in, they can always embrace it but before then, I encouraged them to discover what they have passion for or rather learn a skill to become a boss of their own. They yielded to my advice and now they are already making money. Therefore, it is necessary for graduates to have a plan'B' in order not to be dependants."
Source: TheNation