Market is everything. Pick the right market. If you are in a bad market, nothing will save you." – Mark Essien
Without building any hotel, Mark Essien has managed to use technology to build one of the biggest hotel business in Nigeria. Just like UBER without owning any taxi, is now the largest taxi company in the world, Hotels.ng is poised to become the biggest hotel company in Nigeria within the next few years.
The story of Mark Essien, proves that young people today can use technology to disrupt and overtake traditional businesses, which ordinarily requires very large capital outlay to engage in. Success stories like this, should encourage you to think outside the box, and to realize that you can make a difference no matter where you are now.
Mark Essien was born and grew up in the small town of Ikot Ekpene, Akwa Ibom State, Nigeria. He did his primary school at Monika Kindergarten, and his secondary school at Federal Government, Ikot Ekpene Akwa Ibom, Nigeria.
When he was done with secondary school at FGC Ikot Ekpene, he wanted to study engineering, and so his parents sent him to study in Germany.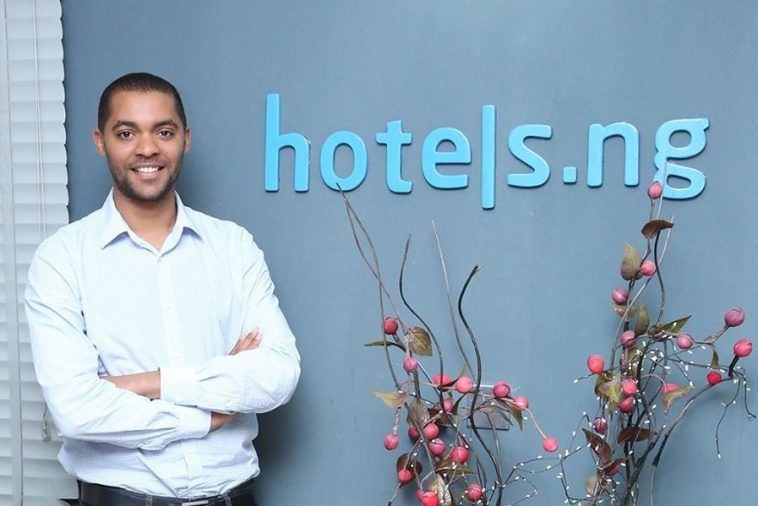 After he turned 18, he went to Germany for his Bachelors in Computer Engineering (Hardware, Robotics) at Beuth University, Berlin. Finally, he did his MSc in Computer Science at Freie University Berlin, also in Germany.
His very first job was working in the cinema as a ticket tearer. He was only there for about 1 or 2 months. After that he left and went to work night shifts taking care of a paralyzed man. That was where he learnt about programming.
According to him in German you have to do a year of something similar to A levels, before you can go to university, he also didn't pass the mandatory German language test so, he had to do an additional 6 months; in all one and a half years It was during that period that he was doing different jobs.
He learnt programming during his night shifts taking care of the paralysed man. Within 3 months, he had developed a file sharing software which was acquired by a big software company. They shut it down shortly afterwards. At the time he only knew how to write code in Visual Basic. But when he joined them, they were building the same kind of software in C++. He was given a book to learn it, 2 weeks after his boss came back saying "you must be ready now, let's start". According to him; That was basically his work experience and it gave him a lot very advanced knowledge in programming.
In an interview with Techpoint, Mark Essien revealed the reason why he created hotels.ng,
"…I was just looking for a technological company I could build that would work in Nigeria…There was a gap between my Bachelors and my Masters. It was during that period I created the first version of Hotels.ng. It was nothing more than a list of hotels at the time. But immediately I was done with that, I left Germany to come home and actually build it into a business…There is a philosophy that I came up with in 2008. It is actually a blog post which I never published. But I go and check it every now and then. It outlines that for you to do anything that will actually be successful, you cannot have preconceptions. You must be flexible. You have to go and discover what will work and then do it that way. It's a hard world out there, you have to find what you have to do to survive. You need to be able to switch your mentality from a certain sense of enlightenment. It's a bit abstract but, many people feel like the thing that will work is in them, rather than from the outside. All you can do is fulfil it from the outside….So once I had that mental switch, I became very focused at looking at what the market wants, not what I want, and if I can go in to fulfil that. Picking hotels was basically a function of understanding that this was something that worked in many markets and could potentially work in Nigeria. After making those two assumptions, I then tested them in the real world. So I created the website, I kept it on there for many months and I could see people showing real interest in it. So I knew that it would work. And if it hadn't I would have kept trying something else till I found something that found potential to become much bigger than it was. So that's why I picked hotels. It was simply based on analysis."
ALSO READ So Touching!! Daughter Donates Kidney To Mother As Christmas Gift (Photos)
jason-njoku
Jason Njoku – Iroko TV
Shortly after the launch of Hotels.ng, Mark published a few press articles that caught the attention of Iroko TV's founder, Jason Njoku. At the time, he (Jason) was beginning a startup fund (Spark.ng) and looking for good internet businesses to invest in.
After negotiations, Spark.ng made a first investment of $75,000 in Hotels.ng. A few months after the initial investment, the Spark fund made another investment of $150,000. This fund enabled Hotels.ng to continue to grow its customer base and expand its hotel listings.
pierre
On May 26, 2015, Hotels.ng received a $1.2 million startup funding from eBay founder Pierre Omidyar's Omidyar Network and from EchoVC Pan-African fund. This funding is expected to be used to expand hotels.ng across Africa, starting with Ghana.
The funding follows from the announcement of a profitable 2014 in Hotels.ng, where the platform was said to have ostensibly made $40,000 in monthly revenue in the last half of the year.
As hotels.ng continued to grow, it began to attract even more interest from investors.The latest and biggest invest came from dangote investment group, The Dangote Investment Group (DIG) is an investment company set up by billionaire industrialist Aliko Dangote to support budding entrepreneurs in Nigeria. The group has stakes in hundreds of growing companies in Nigeria, Hotels.ng is its first funded tech startup and according to Suleiman Bello, the group's managing director, it hopes to invest in more in the nearest future.
aliko-dangote
Hotels.ng secured $10 million from DIG thus valuing the company at over N 3 billion. Hotels.ng has over 7,000 hotels on its platform and its operation spans across 21 regions in Nigeria, with over a million hotel searches on the platform to date. The $10 million funding will allow for expansion into new markets, scaling operations as well as hiring new talent.
Advice to upcoming entrepreneurs.
"Market is everything. Pick the right market. If you are in a bad market, nothing will save you." – Mark Essien
Don't be stubborn. If you hear a wise word, accept it and do it that way. Read and write. Reading expands you mind, writing helps clarify your vague thoughts.
-http://millionaire.ng/